Songs to Remember from Broadway with Alison Fraser
Madame Morrible from Wicked, Photo by-Joan-Marcus
Alison Fraser is a nationally acclaimed performer who has appeared in concert at such venues as Carnegie Hall, The White House, Town Hall, The Brooklyn Botanic Gardens, The Tisch Center for the Arts, The Folger Shakespeare Library, The Greater Trenton Symphony, 54 Below, The Wilma, The Emelin, Joe's Pub and Symphony Space.  She is a two time Tony Award nominee for The Secret Garden and Romance/Romance, a Drama Desk Award nominee for The Secret Garden, and a Carbonell Award winner for Romance/Romance.  She is the first ever recipient of Philadelphia's Barrymore Award for Best Actress for her portrayal of The Blonde in Marion Adler, Scott Wentworth and Craig Boehmler's film noir musical Gunmetal Blues under the direction of the late Jiri Zizka.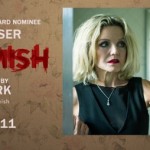 Alison is currently performing in the production of 'SQUEAMISH". It is the tale of an Upper West Side psychoanalyst, a long-time recovering alcoholic whose bloody quest for personal balance begins when she finds herself in the South Plains of Texas, off her meds, after her nephew's suicide. Two-time Tony Award nominee Alison Fraser (First Daughter Suite) stars in this third psychological horror play from Aaron Mark, following his acclaimed Empanada Loca with Daphne Rubin-Vega and Another Medea with Tom Hewitt.
On Broadway she originated such roles as Martha in The Secret Garden, Josefine/Monica in Romance/Romance, and Dorine in Tartuffe: Born Again, and she was Helena Landless in The Mystery of Edwin Drood.  She created the role of Ms. Darbus in the professional theatre premiere of Disney's  High School Musical under the direction of Jeff Calhoun, and she was Tessie Tura in City Center's production of Gypsy starring Patti LuPone directed by the legendary Arthur Laurents.  Off Broadway  she originated the role of Jessie opposite Nathan Lane and Marion Seldes in Terrence McNally's Dedication or The Stuff of Dreams (Primary Stages), and was the guest star in an oak tree at the Barrow Street Theatre.  She was the original Trina in William Finn's March of the Falsettos and In Trousers (Playwrights Horizons) for which she also provided vocal orchestrations, Miss Drumgoole in Todd Rundgren and Joe Orton's Up Against It (New York Shakespeare Festival), Uta in Charles Busch and Rusty Magee's The Green Heart (Manhattan Theatre Club), Connie/Petula/Brenda in Beehive at the historic Village Gate, and Marion Ames in Swingtime Canteen.  She was in the American premiere of the Olivier Award winning Honk! playing Ida, and was seen in the American premiere of the Australian musical Prodigal playing Celia at the York Theater.
Ms. Fraser had the honor of originating the role of Matron opposite Shirley Knight in the world premiere of Tennessee Williams's last full length play In Masks Outrageous And Austere.  She also  originated the roles of Arsinoë in David Ives's version of Moliere's "The Misanthrope," The School for Lies, directed by Walter Bobbie at Classic Stage Company and Sister Walburga in Charles Busch's critically acclaimed play The Divine Sister.  She received a Best Supporting Actress Award for playing Chloe in Lips Together, Teeth Apart at the George Street Playhouse, and she returned there to play Diana in Lend Me A Tenor directed by David Saint.  She  also originated the role of Sarah in the world premiere of Mr. Laurent's Come Back, Come Back, Wherever You Are co-starring Shirley Knight at The George Street Playhouse.  She reprised the role of The Blonde in Gunmetal Blues, opposite Patrick Quinn at the George Street Playhouse also directed by David Saint.  Ms. Fraser was a member of the revolving cast of Daryl Roth's Off Broadway hit, Love, Loss, and What I Wore and originated the role of Faith in Wendy Beckett's A Charity Case.
Ms. Fraser was honored to have created the title character in world premiere of Christopher McGovern's musical Lizzie Borden, and she appeared with cabaret great Andrea Marcovicci in Ted Sperling's highly praised production of Lady In the Dark at The Prince Theatre in Philadelphia.  She has co-starred with such luminaries as Patti LuPone, Shirley Knight, Kelli O'Hara, Stephen Pasquale, Boyd Gaines, Laura Benanti, Charles Busch, Julie Halston, Robert Cuccioli, Roger Bart, Nathan Lane, Marion Seldes, Tony Randall, Jack Klugman, Mandy Patinkin, Scott Bakula, Elaine Stritch, George Rose, Rebecca Luker, Mary Testa, Kerry Butler, Michael Rupert, Chip Zien, Brent Barrett, Steven Bogardus, Howard McGillin, Adriane Lenox and John Cameron Mitchell.
Ms. Fraser stars in the one-woman show Only A Paper Moon…a Tennessee Williams songbook conceived and directed by David Kaplan with musical direction by Allison Leyton-Brown.  It premiered at The Tennessee Williams Festival in his birthplace Columbus, Mississippi and went on to great acclaim at the Provincetown Tennessee Williams Festival and New Orleans.  With co-star Mary Testa, she received the Bistro Award for "Outstanding Duo Performance" for Together Again: The Songs of Rusty Magee.  Her two solo CDs New York Romance and Men In My Life (Original Cast Records) have five star ratings on Amazon.com, and New York Romance was a Grammy short list finalist.
Her many recordings include, in addition to her two solo CDs, The Secret Garden, Romance/Romance, Beehive, Standup Shakespeare (featuring Three Mo' Tenors' Thomas Young), March of the Falsettos, Falsettos, In Trousers, Swingtime Canteen, Lizzie Borden, Quel Fromage, Our Heart Sings, Prodigal, Sweet Appreciation (featuring Rusty Magee and Lewis Black), Rebecca Luker's Leaving Home, Jeepers Creepers, Broadway Musicals of 1951, The Broadway Musicals: Cut-Outs, and audiobooks by such authors as Chris Bohjalian, Eric Van Lustbader, Judith Krantz, Julie Garwood, Sandra Brown, Linda Lael Miller, Margaret Mitchell, R.L. Stine, and Jude Deveraux.  She is featured in the hugely popular video games Grand Theft Auto IV and V.  She has also been heard on literally thousands of television and radio advertisements.
Ms. Fraser is a favorite of children everywhere because of her many appearances as flamboyant but clueless authoress Babs Caplan on the award winning Children's Television Workshop series Between the Lions on PBS, and she has appeared on Smash, Law and Order SVU and Third Watch.  Her feature films include Family Games, Blow Torch, Socks and Bonds, Commentary, Jack and His Friends, Spectropia, Me and Him, Mixing Nia and The Thing About My Folks playing opposite Paul Reiser and Peter Falk.  She can also be seen in the Bright Eyes music video directed by John Cameron Mitchell, the award winning horror film In The Blood.  Her web series work includes the recurring role of Aunt Heidi in the award winning web-series Jack In The Box, written and produced by Michael Cyril Creighton, the recurring role of Veronica Bailey on Wesley Taylor and Mitchell Jarvis's It Could Be Worse, and Dante Russo's Weiner and Weiner.  She is a published journalist – her profile of the late great Anthony Newley was featured in TimeOut Magazine and American Theater Magazine (May 2012) published her In Memoriam piece on Jiri Zizka.
Ms. Fraser is the widow of the late composer and performer Rusty Magee.
(www.sweetappreciation.com) She graduated summa cum laude from Fordham University in 2010 and has taught there as a professor in the theatre department. For the Latest News, please click here!
NEW YORK ROMANCE

Alison Fraser & Mary Testa – Sweet Appreciation

Wrong for Me

Category : Concert / Cabaret &Corporate & Special Events &Cruise Ship Artists &Family Events &Holiday Shows &Music Events (Campus Events) &Music Events (Corporate & Special Events) &Music Events (Performing Arts) &Musical Theatre &Performing Arts &Roster &Symphony Pops